The New York Islanders reached the playoffs during the 2001-02 season for the first time since 1994. They were set up to face the Toronto Maple Leafs and eventually lost in a dramatic 7-game series. Many will always remember the Shawn Bates penalty shot as their favorite moment but it also introduced them to a player that no one really knew about until that series, Trent Hunter. Hunter was a right winger who was originally drafted by the Anaheim Ducks, but they traded him to the Isles for a pick in the 2000 draft. He along with future star goalie Rick DiPietro, took the Bridgeport Sound Tigers to the Calder Cup Finals in their inaugural season back in 2002. But before that run, Hunter ended up showing the organization and it's fans what they could hope for in the future playing 4 games and recording a goal and an assist while making an impact in that series.
Fast forward to the present. The Bridgeport Islanders are off to a terrific start and are likely candidates for a solid playoff run. The New York Islanders are (as of this writing) still slated to make the playoffs this year, but most are not expecting much after that. Is there a player on this years Bridgeport team who could have an impact on Long Island in mid-late April and maybe surprise an opposing team or two the way an unknown Hunter did?? With Kieffer Bellows clearing waivers today, here are my candidates who could be the next "Trent Hunter."

Samuel Bolduc is in the final year of his entry-level contract and he appears to be putting everything together in this very early season. A left-handed defenseman with size who can bring the puck up could have a big impact if the big club's defense gets injured in the playoffs.

Holmstrom is in the same situation as Bolduc, only Simon can play either wing, has an improved two-way game and so far is shooting the puck more, which has been a knock on him for a few seasons. He had a great training camp and a full season should land him at least a look with the big club at some point.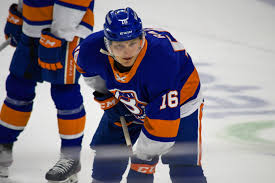 Raty may not need a full season in Bridgeport, but there is no rushing his development. He's off to a slow start and that's fine. What I'm looking for is how strong he finishes this season as he's never played in a 72-game schedule before. He could be that energy at center the New York Islanders need come playoff time.
Dufour and Raty are in the same conditioning category, but I believe Dufour will need more time in the minors and again, that's fine. However, having that shot and size could be useful, even if it is only in one or two games of the NHL playoffs.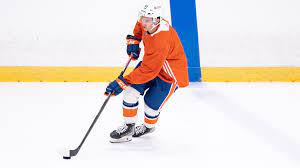 Need a speedy center who can also play wing and crash the net while dishing out passes? Ruslan Iskhakov could be a b-level Mat Barzal or even a lower-six Johnny Gaudreau (style-wise), but he is being watched by other NHL teams. Like a few on this list, conditioning is key as he's never played a 72 game schedule, but he's been playing against men since he went to the University of Connecticut and oversees.
Trent Hunter ended up having a decent career for the Islanders. He wasn't flashy, but when he was on his game he made an impact. That's what these younger players have in common. As the season progresses, look for Bridgeport to compete and make a deep playoff run but don't be surprised if you see any of these players possibly get called up if the New York Islanders need a spark, a burst of energy or to make an impact on their season. So who is your "Trent Hunter?" Leave your comments in the comments section and I look forward to reading them.
Facebook: https://www.facebook.com/IslesTalk
Twitter: https://twitter.com/IslesTalk
Follow Paul on Twitter: https://twitter.com/P_Kreischer