Unfortunately, another opportunity squashed, as the Isles only take one point from the Penguins on Saturday night,
The second line, as I predicted, was quite strong last night – with Brock Nelson scoring (on the PP), and Josh Bailey coming off the goalless streak with a snap shot from the slot putting the home team at a 3-2 lead in the second stanza.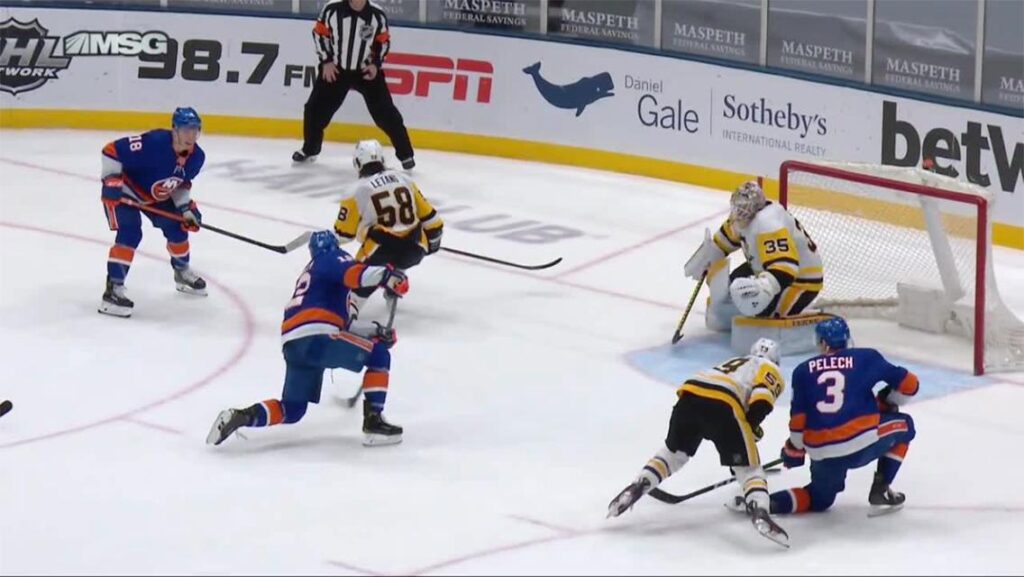 Jared McCann equalized the game just seconds into the 3rd, and Kris Letang, scored his fourth goal of the season, and all four goals against the Isles. The two teams plays their sixth game of the season against each other at 5PM this afternoon. The Isles, are hoping to get two points today.
Here are some thoughts after the game:
Oliver Wahlstrom has been blossoming by leaps and bounds of late, and is looking like the type of player that the Isles were hoping for when he was drafted in the first round a few years ago. It is amazing what a goal and a little confidence will do to the psyche of a player
As stated above the second line was quite strong, and it really helps to have Anthony Beauvillier playing at 100% strength. He will be key to getting this line progressive forward
Mat Barzal is really getting on my nerves. Offensively – he is not an issue. But his emotions, and frankly, his immaturity is causing problems. An elite player like him, should not be leading a team in penalty minutes. He needs to be more disciplined and keep his feet moving. When he does not – his sloppiness is causing him time in the sin bin
Was it just me – or was Semyon Varlamov a little off after falling on a rut in the ice when Sidney Crosby scored to make it 2-1 Isles in the second. He just never looked comfortable
Today, we should see Ilya Sorokin between the pipes today. Casey deSmith should be opposing him. Sorokin has not started since his shoutout in Buffalo nearly two weeks ago. He needs to be solid, and make his mark on the game right away. Pittsburgh is still a strong team, but he needs to be strong and keep his game simple.
Let's hope that todays contest will be a better result for the boys.
If you wish to talk to us – you can tweet us: