We continue our New York Islanders Path To The Draft segment by going over the college players, the Bridgeport Islanders, and one New York Islander. I started covering the college players a few years back because I saw how they adapted to the physicality of the AHL better then some of the junior players when they first arrived. As for Bridgeport, the word this year is "Breakout." The players that I'll be bringing up need to have breakout seasons if they want to gain any kind of traction in becoming an NHL regular. There's also a basic yet intriguing stat that I'm now forced to adapt to that has shown me why New York Islanders general manager, Lou Lamoriello, has traded away 4 consecutive 1st round draft picks.
College Players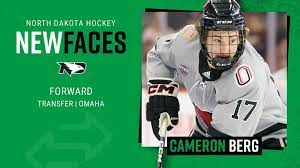 Cameron Berg: Here Islanders fans is you hybrid version to Michael Peca. He has put up fantastic numbers in his first two season with Omaha (74GP, 18G, 29A, 47Pts) and is now transferring back home to the University of North Dakota. He can play in all situations and his overall development should improve while refining his game and adding a few more goals. It's not yet known what role the Islanders will have for him, but there is nothing but upside for Berg.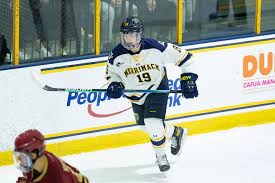 Alex Jefferies: Isles Talk has learned that both Berg and Jefferies have talked to the Islanders about signing to their entry-level deals, but both decided to remain in college. For Berg, who is a junior, made a smart decision to stay and grow his game, but for Jefferies, it's not only for his overall development (83GP, 23G, 46A, 74Pts), it's personal. Jefferies could be used as a center this year for Merrimack, a program who is literally bringing back everyone after having a top 20 showing in the college ranks and losing to Quinnipiac (the eventual national champions) in the playoffs. It's all about getting that national title this year for Jefferies and Merrimack.
Christian Krygier: There is nothing flashy with Krygier as that is not his game. He's a steady defensive-defenseman who played 5 seasons with Michigan State and the Bridgeport Islanders signed him to a deal. Normally I would make him a Graduate since it's been five years since he was drafted back in 2018, but he's only 22 years old. I need to give him that extra year to see how he could pan out in the Islanders plans. Even if Krygier started the season with Worcester of the ECHL, he could still be used for a Calder Cup playoff run by seasons end. It's finally nice to see a 7th round pick make it to the organization and contribute, no matter how small the role.
The Pros
I'm going to condense this into one big theme for the Bridgeport Islanders this coming season: Breakout!!! The Islanders had 9 regular rookies play this season and the inconsistency showed on a few games. Certain players need breakout seasons and Bridgeport needs to get past a best-of-5 series for the first time in decades…..that's right, decades!!
Samuel Bolduc, Simon Holmstrom, Reece Newkirk, Blade Jenkins all need career years (again) and finally take this team beyond the first round and allow the development of other players to grow with them. They've been here the longest and now is their time. Bolduc and Holmstrom may get the Devon Toews treatment where they are sent down to Bridgeport at the beginning of the season, but if they get a call back up to New York, they probably won't see the AHL for a while, if ever. William Dufour needs to continue to work on his overall game as he is not yet ready for a call-up even at the midway point of this coming season. As for Ruslan Iskhakov, he needs to dominate the AHL this year if he wants any kind of roster spot with the big club.
I mentioned one New York Islander "Prospect" and he is Oliver Wahlstrom. Like Krygier, Wahlstrom just turned 23 years old. If I'm sticking with my system, then I cannot make him a graduate either until the end of next season. His goal should be to replace Kyle Palmieri as the 2nd line right winger during the season for this organization and put up roughly 15-20 goals. My hope is that he does not get traded and they allow him this year to have his own breakout party. Could he score more? I think he can, but that will depend on the role that the Islanders will want him to play this year.
If you missed last week's show on the college players and Bridgeport, you can watch it here: