If there is a position in the New York Islanders prospect pool that desperately needs to be filled, it's at center. Some may argue a left defenseman and I would completely understand that point of view , but the Isles shouldn't pass up an opportunity to steal a possible 2nd line center (or better) in this draft. Yes, Aatu Raty is here and he's already shining during his young development as many will get to watch him in Bridgeport this season, but the Isles need another high-end, blue-chip center if they're going to eventually replace both Brock Nelson and Jean-Gabriel Pageau. The question will be this: Is this center worth drafting over a potential sniper, or a (possible) first-pair defenseman? To go a little deeper, let's take a look at a few centerman that could be (or better yet, hopefully) sitting at number 13 in the 2020 NHL draft.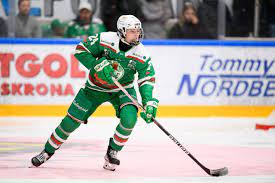 Marco Kasper C: Rögle (SHL/J20 Nationell); 6-1, 187 lbs; Shoots: L
Kasper has moved up in everyone's prospect rankings, especially in the last month. This prospect has played the most professional games than anyone in this draft class and he more than held his own. He played 59 games in the SHL, and 7 more games at the World Championships. This is the type of prospect that I particularly look for. He competes in all three zones, he's got good speed and can carry the puck up to the offensive zone while still shows a good physical game. He honestly reminds me of a mix between Brock and Pageau and that's the dilemma. The question is how high is his scoring ceiling? If the Islanders think he can be like Brock where he can rack up 20 a year, maybe 30 once or twice, then he should be a drafted, but if they're projecting him to be a 12-17 goal scorer like Pageau is, then there might be other options for them to decide on.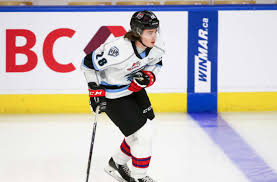 Connor Geekie: C; Winnipeg (WHL); 6-4, 205 lbs; Shoots: L
This is the first situation where the Islanders could trade down in the draft to collect assets (picks, prospects) if they feel they can draft Geekie in the lower half of the first round. I will make this as simple as possible when describing Geekie to Islanders fans: He's Brock Nelson but with Tavares-like feet, if not slower. The kid can dominate the WHL with his skill alone, but everyone's concern is that he might not be able to handle the speed/pace of the NHL. Brock Nelson has three more years and Pageau four. That fourth year might be enough time to have Geekie ready for the NHL and become another steal for the Islanders joining the likes of Wahlstrom, Dobson and Raty.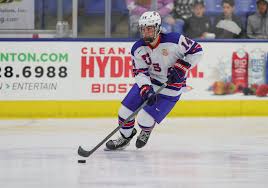 Frank Nazar: C; NTDP U18 (USNTDP); 5-10, 181 lbs; Shoots: R
I have Frank Nazar listed in my top 10 prospects and he's got a chance to become a solid 2nd line center or quite possibly a first, depending on his consistency. He's a dangerous mix of Barzal and Nelson. He's fast, drives to the net, forechecks very well, just an overall good balance of qualities for someone going to the University of Michigan next season. As mentioned before he just needs to work on his consistency. This draft is reminding me of 2017 where the top 3, maybe 4 are locks to be picked in their respective spots. However after 5, it's anybody's guess. If Nazar is somehow still available at number 13, and the Islanders don't draft him, this would be as a big of a shock to me as when the Islanders drafted Robert Nilsson instead of Zach Parise back in 2003.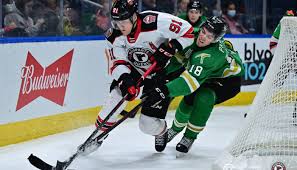 Nathan Gaucher: C; Québec (QMJHL); 6-3, 207 lbs; Shoots: R
Here is the second option for the Islanders should they decide to trade down in the draft to collect a few assets. Gaucher is a bigger, physical version to Pageau, with a flair of Anders Lee and Matt Moulson. He was nominated for the Guy Carbanneau award for best defensive forward in the QMJHL and his scoring comes from getting to as close to the net as possible. Gaucher loves to use his body and cycle the puck, deflect them in and has a decent shot. He can also play in any type of situation. Gaucher is my dark horse here. He fits the Isles to a "T" but I can't see the Isles drafting him at number 13. However, as stated before, after the number 4 pick, anything can happen. Like Geekie he'll need a solid 3-4 years, but Gaucher already has a leg-up (pun not intended) as he has better speed than Geekie, but Connor could score a lot more goals than Nathan is projected to at this point. Another factor is where do the Islanders project Aatu Raty to be in 3-4 years? If they feel he'll be better suited for 2nd line duty, then drafting Gaucher makes the most sense. However if Raty projects as a number 3 center, than Geekie may be the way to go.
So who is my wish list finalist at the center position? Frank Nazar. In four years time (or sooner), Nazar should be done with the college path and I wouldn't be shocked if he was inserted right into the Isles lineup. I do think Marco Kasper will already be playing in the NHL and Geekie and Gaucher will certainly be finishing up their AHL entry-level deals by then. Nazar has the potential to be a special player and having Mat Barzal, Frank Nazar and Aatu Raty as the Islanders centers is, in my humble opinion, just too good to pass up over a potential sniper or first pair defenseman, but this discussion will be continued when I go over my wish list for defenseman in my next article. The NHL draft is this week!!!
Don't forget to checkout my Path To The Draft: Wish List of Wingers edition.
PK
Facebook: https://www.facebook.com/IslesTalk
Twitter: https://twitter.com/IslesTalk
Follow Paul on Twitter: https://twitter.com/P_Kreischer