**Editors note: Brian Kiely of the Drive For Five Facebook Group and Bridgeport Islanders season ticket holder contributed to this article.**
Every year before the NHL Draft I always look back at the New York Islanders prospects and try to get an overall "Big picture" of the organization. I also look at the prospects to see if the Islanders can afford to draft a player who may need some time to develop or someone who can come in early to help out sooner. Obviously the position of the players do matter as some need more time to grow, but with what the Islanders have in the organization, this could be a draft where the Isles need a little bit of everything. Here are my rankings of the Islanders prospects (aged 23 before the season is completed and under) heading into the draft.
Honorable Mentions:
Arnaud Durandeau LW
Drafted: 2017
Round: 6th; 165th overall
Thoughts: Durandeau had a decent first full season with Bridgeport racking up 15 goals and 37 points in 64 games while also collecting 2 points in 6 playoff games. Would love to see at least a 20 goal season with the lineup improving and if injuries arise with the big club, possibly could be a call-up. The downside is that he is 23 years of age and would be one of my "graduate" prospect from previous seasons, but covid has changed the way I'm tracking players this year and there are going to be a few players ahead of him.
Bodie Wilde D
Drafted: 2018
Round: 2; 41st overall
Thoughts: Bode Wilde spent last season in Sweden's 2nd tier league, HockeyAllsvenskan due to his choice of not being vaccinated. He averaged roughly 14 minutes of ice time, but was reduced to 10 in the playoffs. He had sustained an ankle injury and he was limited to only 40 games in the regular season and played 7 in the playoffs, racking up 3 points. Wilde needs to return to the Islanders this season if I'm going to move him into the top 10 spot. He has one year left on his ELC contract and if the Isles feel that he may not have a future with the club, then perhaps he can be used in a package for a bigger trade.
Otto Koivula C/W
Drafted: 2016
Round 4th; 120th overall
Thoughts: Koivula was a call-up and collected 2 points in 8 games. Like Durandeau, he's 23 and he may be a continuous call-up for the Isles but could be claimed in the waiver wire and teams like Seattle or Arizona could take a flyer on him as their 4th line center. Koivula is an RFA with arbitration rights so including him in a package to a cap-strapped team could also work in the Isles favor.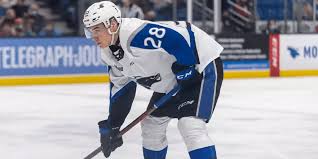 10. William Dufour RW
Drafted: 2020
Round: 5th; 152nd overall
Thoughts: As I've written in my previous post, just getting to the AHL as a 5th rounder is a great start to a young career and it makes the GM look good, but the Isles have made a good habit of bringing their players in. Dufour won MVP of the QMJHL this year and is excelling during the Memorial Cup championship rounds. He's already signed an ELC contract with the Islanders and will report to Bridgeport next season. My concern is that despite having a wicked shot, he's 20 years old in a league that does not have a forward getting drafted in 2022 until maybe the late first or early second rounds and that he's been playing against kids that are just not yet ready. Plus, even despite his impressive numbers earlier in the season, he did not make the Team Canada cut for the World Junior Championships. I'm putting absolutely ZERO expectations on him for next season as I'm sure the Isles are going to want to develop his overall game and he'll have to adjust, but if he can play next to Ruslan Iskhakov or Aatu Räty, then I can expect to see decent numbers from him.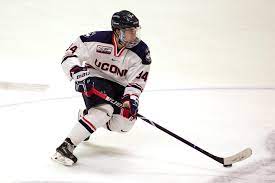 9. Ruslan Iskhakov C/LW
Drafted: 2018
Round: 2nd; 43rd overall
Thoughts: Iskhakov has the speed and hands to make AHL defenseman look silly. He's got a good mix of pre-AHL development playing two years in college for U-Conn and two more years playing overseas. He can play center, but at some point the Isles may have to move him over to the wing because of his 5'8″ 165lb frame. He reminds me of a mix between Jason Blake and Mat Barzal and he's got the next two years to put it all together. The ultimate boom/bust prospect.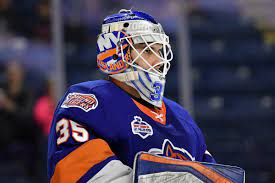 8. Jakub Skarek G
Drafted: 2018
Round: 3rd; 72nd overall
Thoughts: Skarek had one good month and that's about it. When I see a 36-year old start in the Calder Cup playoffs, I get concerned for a player like Skarek. Covid (redundant theme in this blog) has definitely hampered his playing time, and he did put up slightly better numbers while doubling the amount of games from the last two seasons, but Skarek's consistency has to improve which was a big reason why he was picked in the 3rd round and not higher. Next season will be a make or break year for him because Tristian Lennox is knocking on his door.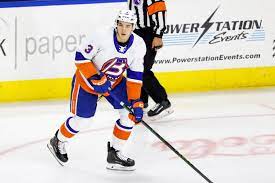 7. Samuel Bolduc D
Drafted: 2019
Round: 2nd; 57th overall
Thoughts: When the Islanders first drafted Bolduc he had "project" written all over him and I compared him to a mold similar to Scott Mayfield. His first season with Bridgeport was more of an extended pre-season thanks, again, to covid. He showed flairs of offence in his game, but this was his first full season traveling around and playing more than 3 teams in a season and he looked okay. Call it what you want: sophomore slump, growing pains….yes to all. He did not participate in the Calder Cup playoffs but I am expecting him to have a better season when he can put everything together and build on what he's learned the last two years.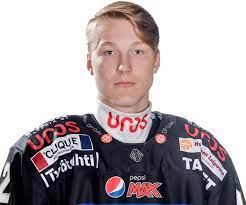 6. Aatu Räty C
Drafted: 2021
Round: 2nd; 52nd overall
Thoughts: So far Räty is proving a lot of people wrong. He's their best prospect under the age of 21 and their top center prospect. What keeps me from putting him into a top five spot is his consistency in the AHL, which he hasn't had the chance to do yet. Remember, most Isles draft picks end up in Bridgeport so it's what they do in the minors that determines their future. Räty can play the 200-foot game and he's got great hands, but he may need this season to adjust and gain that consistency over a longer season before getting a call up to Long Island. His performance in the Calder Cup playoffs was outstanding and with just enough time and work, he'll be a call-up.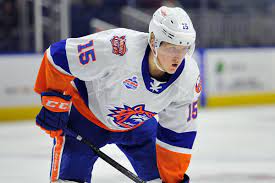 5. Simon Holmstrom W
Drafted: 2019
Round: 1st; 23rd overall
Thoughts: This was Holmstrom's best year as an Islander. Consistency was there, the skill was there and it showed when he racked up plenty of points during the Calder Cup playoffs. I still see him in a mold of Josh Bailey, but with an improved roster I would like to see if Holmstrom can take his game to another level next season and I believe that he will. He should get a long look at camp and at the very least get a cup of coffee if injuries arise. Would love to see him along side Räty. All Holmstrom needs to do is stay the course and you can chalk up another steal by Lou Lamoriello.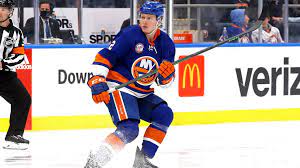 4. Robin Salo LD
Draft: 2017
Round: 2nd; 46th overall
Thoughts: Salo has a decent first year as an Islander as he got called up for 20 games posting some decent numbers while also showing the need for a puck moving defenceman. However his defensive game and overall consistency continues to need work and since he is not waiver eligible next season, could Salo begin in Bridgeport? For now, I'd have to say yes because I'd like to see him be a full-time AHL player than a 6th-7th defenceman with limited time in the NHL. At this point he should have the camp of his life if he wants to stay and make the club. I still believe he can be a top 5 or even a top 4, paired with Noah Dobson at some point, but not yet. Salo will turn 24 to start the season, so he's coming off this list.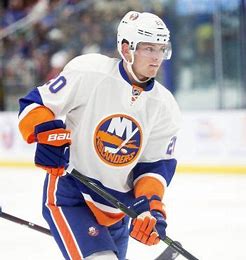 3. Kieffer Bellows W
Draft: 2016
Round: 1st; 16th overall
Thoughts: Bellows just turned 24 two weeks ago, so he will also be off this list to start the season, but fans need to remember how young some of these kids are. Bellows will probably be an extra forward for the Isles or part of a package in a deal that will give him a chance to prove he's NHL ready. However, if he's not and should injuries arise (and they probably will) I still think Bellows can a middle-six forward eventually replacing this years Bob Nystrom player of the year winner, Zach Parise. Beating a dead horse, but covid also played a role in his development like everyone else and the Islanders had all the intentions of sending him and Oliver Wahlstrom down to Bridgeport at the beginning of the season, but when covid struck it was better for him to be a part-time NHLer instead of a full-time AHLer.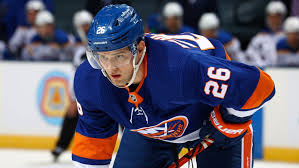 2. Oliver Wahlstrom RW
Drafted: 2018
Round: 1st; 11th overall
Thoughts: As previously mentioned, the Islanders had all intentions of sending down both Bellows, and Oliver Wahlstrom. Instead Wahlstrom put up decent numbers on primarily the 3rd line. Many fans wanted him to play first line minutes (which he's never done in his career) with Mat Barzal, but that never panned out until Barzal was brought down to the third line to see if there was any chemistry between the two stars, but to no avail. Wahlstrom is going to be a top-six forward in the NHL, there's no doubt of that. The question is now this: Will Lane Lambert keep him on the Island or will he be sent down to Bridgeport to start the season? Like Salo, Wahlstrom will have to demonstrate at camp that his game is complete and consistent enough that the Isles will have no choice but to keep him up.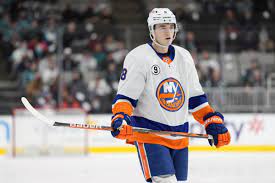 1 Noah Dobson D
Drafted: 2018
Round: 1st 10th overall
Thoughts: You still haven't seen Noah Dobson at his peak yet. Would love to see him get paired with a defenseman who is no longer a guide or mentor and let him take over a game. He's a future Norris trophy winner and will be part of a backbone defense for years to come….and he's only 22. With a healthy Pulock-Pelech first pair, it's going to take a lot to contain Dobson and whoever he's paired with, which is why this is such a critical summer. As his game grows, so will the Islanders..
So where does this leave the Islanders on draft day? As you already read, some players will be off this list and their futures are not yet set. This draft can certainly fill in any voids that will occur which is why I wouldn't be surprised if the Isles traded down to collect a few more picks or for next year. On the other hand, if the Isles have a player that fall into their laps (Dobson, Wahlstrom, Räty, Holmstrom) they should not hesitate to draft someone who was projected higher and strengthen the overall prospect pool. Having written that I would have to say any player who was projected as a top-7 pick would a type of player the Isles must take. If not, all bets are off. So who could be on the Isles radar at number 13? I'll be going over my "Wish List" over the next two weeks with you and I'll make my prediction the day before the draft, unless Lou makes a move before that time.
PK
Twitter: https://twitter.com/IslesTalk
Facebook: https://www.facebook.com/IslesTalk
Follow Paul on Twitter: https://twitter.com/P_Kreischer