What is a graduating prospect? Since covering the draft and watching the players develop at various stages and leagues, I have my own philosophy of a prospect: Any player from ages 17-23 years of age, and once that player turns 24 at any point of the season, they are no longer considered a prospect. I give some leeway to college players who are coming into the AHL from college, but from a physical standpoint, they should already be prepared. This usually coincides with players who are waiver exempt (meaning the can clear waivers without worry of getting claimed by another team), or also on an expiring entry-level contract. So for example, One graduate, Noah Dobson, turns 24 in January this coming season so he is a graduating prospect. Because Dobson did not take the traditional route of the AHL after juniors, he's like a high school senior taking college courses but until he gets that diploma, he's still a high schooler. I've also expanded my graduate philosophy this year because some of these players were signed to contracts, but had never played for any other professional organization but the Islanders, so for the sake of development, I'm going to include them and in the future.

Travis Mitchell LD Signed Free Agent
Cornell University: 95 games, 11 goals, 36 assists, 47 points
Travis Mitchell adds more experience and depth to the organization while also has a knack for the occasional offense as he's regarded as more of a defensive-defenseman. He went undrafted back in his first year, 2018 while playing for the Omaha Lancers of the USHL but he was getting looks from the Boston Bruins at some point during his college career. Is he an immediate call-up? Probably not, but Bridgeport may not miss a beat should Samuel Bolduc get a call and Mitchell takes on a bigger roll.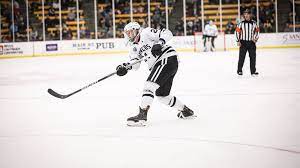 Aidan Fulp RD Signed Free Agent
Western Michigan University: 97 games, 4 goals, 35 assists, 39 points
Fulp is another 2018 draft passed-over USHL player from Dubuque who is also a solid defensive defenseman from Western Michigan University. Fulp, who has Scott Mayfield written all over him could be a bridge between Mayfield (or any other bottom-pair defenseman) and the next drafted right defenseman, whether it be Tomas Machu or (more than likely) another drafted defenseman in this years 2023 draft. Like Mitchell, Fulp was scouted by another NHL club, the Pittsburgh Penguins and with a little more time in Bridgeport, Fulp could very well be a call-up should Grant Hutton not be available.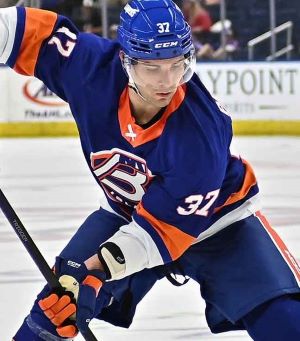 Jake Pivonka C 2018 4th Round Pick, #103 overall
NCAA: 166 games , 19 goals, 37 points, 56 points
Years ago I had Pivonka as the heir to Casey Cizikas' 4th line center role when Casey was no longer an Islander. Right now, I'm just glad Jake gets to develop at the pro level and hope to see some improvement to the point where he can get an NHL contract. Wouldn't shock me if he started in Worcester either.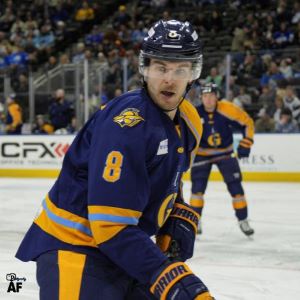 Bode Wilde RD 2018 2nd Round Pick, #41 overall
AHL: 22 games, 3 goals, 3 assists, 6 points
HockeyAllsvenskan (SHL Jr level): 40 games, 1 goal, 9 assists, 10 points
ECHL: 56 games, 4 goals, 10 assists, 14 points
Take away the vaccination drama for a moment and just look at the numbers. They're not good. Wilde should have dominated the 2nd tier of the SHL and this past season in the ECHL. Not even close. There are certain times when it's up to the player to show that management made a mistake and Wilde did not produce. Don't ask me how Wilde missed 16 games because they were not injury related. Does he have some value? Maybe in a package deal? Folks have to remember that Wilde was a top 15 prospect and he dropped to 41 with the Isles taking a chance there. That should've been a red flag, but I digress. If he had produced like many of us had hoped he would, Scott Mayfield is no longer an Islander. Will Lou qualify him?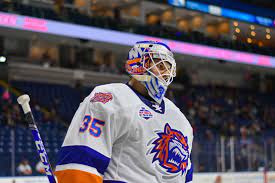 Jakub Skarek G 2018 3rd Round Pick #72 overall
AHL: 103 games, 3.34 GAA, .892 sv% 4 SO 37-49-10
Consistency has always alluded Skarek even before he was drafted. Unfortunately Covid-19 did not help matters as he only played 16 and 14 games in his first two seasons in Bridgeport. I personally believe he'll need to play close to 150 games and have a better overall team defense in front of him but with the additions like Pivonka, Fulp and Mitchell, and the previously mentioned breakout years from other Bridgeport players, perhaps we could see a breakout from Skarek as well.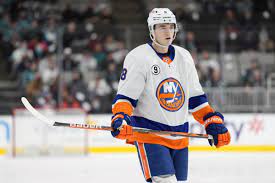 Noah Dobson RD 2018 1st Round Pick #12 overall
NHL: 238 games, 30 goals, 91 assists, 121 points
In his first full season Dobson had Andy Greene to rely on, then Zdeno Chara in his second. This past year he had to learn to be more offensive without giving up on his defensive responsibilities while also getting to know different defensive partners throughout the year and thus had a tough learning curve. I still believe Dobson will be elite whether it be this coming year or in the near future, but since Bo Horvat's arrival Dobson put up 20 points in 30 games and was looking more comfortable with Sebastian Aho as they were playing a 3rd pair role. He won't turn 24 until January of 2024 so there's some room to grow before then and I believe the Islanders still have a Norris Trophy winner in their future.
So there is the graduating draft class of 2018. It should be noted that every player that was drafted in 2018 by the Islanders played at least some form of professional hockey either in the AHL or NHL. You'd have to go all the way back to 2009 for the last time that happened. Adding two more promising defenseman from this draft year and the hopeful emergence of a few Bridgeport youngsters and the New York Islanders are designing the organization to be a very tough and challenging experience for future picks. The message is clear: You're going to have to go through Bridgeport if you want to get to the Island.