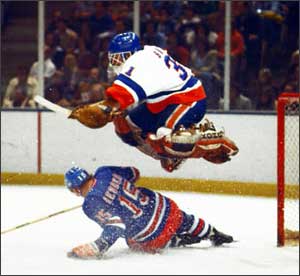 Went to pregame skate this morning.
Was an optional skate, due to the late arrival of both teams.
Matt Donoval, Brian Strait, Chad Johnson and Cory Conacher were the only Isles out on the ice.  The rest of the team were treated to some time with Billy Smith.  He apparently talked about some of the superstitions he had playing the game, as well as the meaning of playing at the Coli for all of those years.
The media got a chance to interview Smitty after he talked to the team.  He was candid, HONEST, and told it just the way it was.
The following link below is the interview with Smith.