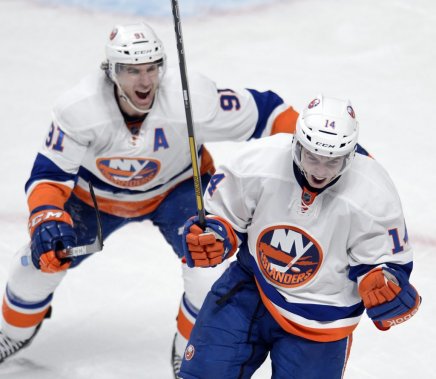 Is it just me, or when we were growing up, it seemed like Summers went by so quickly?  You just started enjoying the July 4 celebrations, and before you know it, bang, Labor Day weekend, and back to school.  It always felt like it flew by.
Now – at the midpoint of July, the middle of a heat wave that is driving us all to cooling stations and pools, it is six weeks away from the start of training camps and a full NHL hockey season to come!
I WANT MY HOCKEY!!!
These are dog days, for sure.  Although I love the warm weather, the pool, baseball, hotdogs (well – its a tough time to eat ONE these days).  But other than the Friday night Islander fix on MSG+, it is hard to get through these days.
But as an Isles supporter, I am satisfied that this team is building TOGETHER.  Although so many in the nation want this team to get stars, move up the salary ladder and get big names, I am happy with the situation they are in.  The team announced the signing of Thomas Hickey last night, so all are in the fold.
I am sleeping comfortably (well with the fans and A/C on, of course), knowing the makeup of this team is set for a good while to come.  Although the possibilities that many of us will be watching these potential celebration games from our homes as opposed to live in an arena, we will still be witness to it.
So the biggest question may end up being, who will be on JT and Matty-Mo's line come camp and the start of the season?  Will Ryan Strome make the jump (my bet is on that)?  Or will one of the former Wild players (Messrs. Bouchard, or Clutterbuck) make the move?  Will it be Josh Bailey that will get the chance?
The only thing I hope does not happen is that Michael Grabner falls back on the depth chart and loses confidence.  I still believe that this man is a special player and can be a big help to the overall development of the hockey team.  Being placed on a third line, is not the best place for his speed and overall offensive acumen.
As far as the "D" goes, Lubo has some experience as a top line guy.  Now, he just has to "BE" the guy.  Hammer, now set for the next seven years, just has to continue his development, and be the MAN shutting down the Crosby's and Ovechkin's of the league.  Also, Brian Strait will now have the chance of solidifing that Top 4 spot that he wanted to covet as a Pittsburgh Penguin.  This position fell into his lap, and he has taken advantage of that in his short time here on Long Island.  Matt Carkner and Andrew MacDonald will round off the crew.
We all know about the goalie situation, and at least it is set up to go as of now.
But all I can think about now – is that we have SIX MORE WEEKS TO GO!  Oh well, I have Duck games to keep me busy; the NHL Booster Club Convention is in a couple of weeks in Savannah, GA.  That will be cool.
But alas, SIX MORE WEEKS!  Can you stand it?